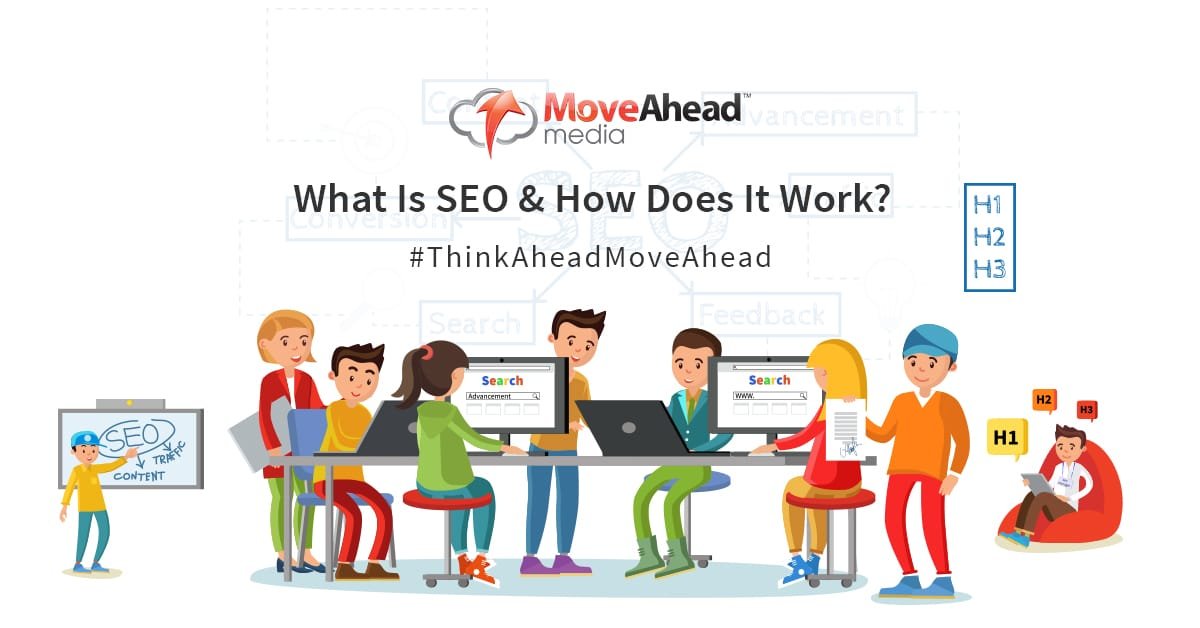 What Is SEO And How Does It Work?
Search engine optimisation (SEO) refers to the process of optimising your website to make sure it ranks high on the search engines for target keywords and phrases. By improving your SEO, you can get your website in front of more online customers, helping you increase brand awareness and sales.
Unlike other forms of online marketing, SEO is all about driving organic traffic to your website. Essentially, your job is to make sure people find your company when searching for your products and services. That means you need to ensure your website is attractive to both users and search engines.
What Can SEO Do for you?
If you want to make your mark on the web, you need to drive organic traffic to your website. Organic traffic refers to website visitors who find a website on the search engine results pages (SERPs) – not via an advert or social media. And when it comes to website visits, organic traffic still reigns supreme.
Over half of website visits come from organic traffic. Social media is responsible for just 5% of website visits, and paid search results just 14%.
We're not suggesting you should ignore social media and paid search; both can be effective ways to drive prospects to your website. However, investing in SEO is likely to yield better results over the long-term.
Getting Started with SEO in 2020
So, now you know what SEO is and why it's a crucial element of any online marketing strategy, you need to understand how to optimise your website to maximise your search engine visibility. Here's how you can get started with SEO.
You need to create content with the aim of ranking on the first page of Google for a particular search term or terms. The more content you create, the more chances you have to earn first-page positions on the SERPs.
Don't just aim for high-traffic keywords – think about low-traffic keywords that aren't very competitive but could result in a high conversion rate.
Here are a few different types of content you can create to improve your SEO:
Blog posts and articles
E-books and whitepapers
Social media content
Guides and tutorials
Infographics
Audio and video
Mix up your content, and you'll be able to target a variety of different prospects with different needs. Focus your content around your target keywords, and you'll boost your chances of earning leading positions on the SERPs for the terms your customers use to find you.
It's a good idea to tweak certain elements of your website to boost your chances of earning first-page positions on the SERPs. Make sure to write custom Title Tags and Meta Descriptions that include the keywords most relevant to the content. Also, make use of subheadings to give your content a clear structure, and include internal links to relevant content to keep people on your website.
While you have complete control over on-page SEO, off-page SEO is a little trickier. Google analyses a range of factors to determine your trustworthiness, such as social media signals, reviews and backlinks. Always try to build relationships with bloggers and influencers who could direct prospects to your website. And, don't forget to ask your customers for reviews so that you can earn the trust of prospects and the search engines.
Customer-Friendly SEO
Many SEO agencies attempt to trick the search engines into ranking a website highly for a certain search term by creating repetitive content that includes the target term a certain number of times. However, if you neglect your customers' needs and only focus on appealing to the search engines, your content may do little to increase your sales or engage people.
The reality is – there is no get-rich-quick scheme when it comes to SEO. You need your content to resonate with customers, which means you shouldn't just be writing for a robot. Remember that while you need to rank on the first pages of the SERPs, you need your content to persuade human readers into taking action. Ensure your website is highly relevant, useful, engaging and optimised for your keywords, and your SEO campaigns will deliver long-term results - that's where our experts at Move Ahead Media come in useful.
We're a leading online marketing agency thanks to the results we've already provided to countless companies across the globe. We boast an in-depth understanding of what's required to earn the top positions on Google and Bing. Because we know all businesses are different, we develop bespoke strategies that will help you achieve your unique goals, whether you want to increase the number of locals who visit your location or attract interest in your company from overseas.
Want to significantly increase your customer base? Get in touch with us today!
---
Get In Touch