Introducing Our Leading Web Design Service in Bristol
In today's world of business, you need a website for your company, regardless of its size. People are now less inclined to walk through the busy streets of Bristol in search for a particular service or product. Instead, they simply search for what they require on their desktop or phone using Google, which is why you need to make sure your company website can be found online. However, you also need to make sure that when people find your website, they like what they see. It's essential to design a website with marketing in mind so that you can convert as many readers as possible into paying customers. The bottom line is – if you don't have a website for your company, you're missing out on the chance to capture thousands of potential customers.
But having a website is about more than competing with similar businesses and ensuring you have an online presence. It's about showing your potential customers you're a forward-thinking company. Moreover, your website can act as not only an online business card but also a sales representative that works around the clock. If you want to grow your customer base exponentially without having to lift a finger, you should contact the agency experts at Move Ahead Media.
The Importance of Web Design
At Move Ahead Media, we know that even the smallest of companies can be transformed into national or even international businesses by harnessing the power of digital marketing. However, you won't have much luck online if you don't have a website that attracts and retains readers. While there are a range of tools that allow you to create a company website without help, it's worth partnering with a team of designers who know how to maximise your conversion rate and return on investment. Essentially, we'll make sure your website is more than just a drop in the ocean. We'll make sure it's a tidal wave that takes your company to new heights.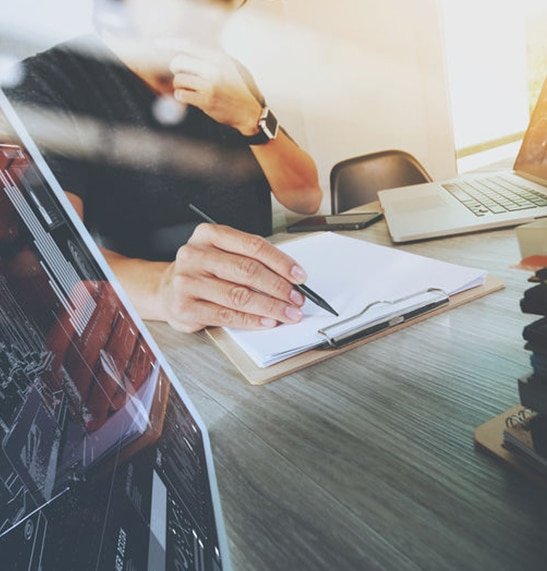 At Move Ahead Media, we're a top-rated agency because we excel in the following aspects of web design:
The internet has taken the world by storm for countless reasons. But one of the main advantages of the web for the online consumer is the simplicity it provides. Ideally, your customers should be able to find the product or service they require by following three or fewer links. That means you need to create a sitemap that makes sense, pay attention to your menu bars, ensure your web design doesn't look too convoluted, and much more. Partner with our agency experts in Bristol, and you can feel confident that your web design will offer a
smooth user experience
, maximising conversion and retention rates while boosting your search ranking in the process.
Search engine optimisation (SEO) refers to the process of tweaking your website to make sure it earns the top positions on Google and Bing for your target keywords. Developing an effective
SEO strategy
involves carrying out comprehensive keyword research, creating compelling content, keeping the coding simple, ensuring certain features aren't hidden from Google's crawlers, optimising your site's loading speed, removing broken links, earning backlinks, and much more. Fortunately, we can do all that here at Move Ahead Media.
If you already have content, we can design your website and upload your content on your behalf. Alternatively, our professional in-house copywriters and graphic designers can create a powerful brand for your company. It's essential to
create content
that keeps a reader's attention and encourages them to take action, whether it's purchasing a product or subscribing to your newsletter. Whatever your goals, we can help you achieve them at Move Ahead Media.
Nowadays, the speed at which your website loads is an important search engine ranking factor. Many studies show that people will only wait a few seconds for a website to load before bouncing, and people are even less patient when using their smartphones. We know how to utilise the latest tools and technologies to optimise your website's loading speed to keep your bounce rate to a minimum, which will also have a positive effect on your SEO efforts.
Ensuring your website looks just as striking on a mobile device is just as important as making sure it keeps people's attention on a desktop. Up to 80% of online users now use their smartphones to find local businesses. Therefore, if you fail to optimise your website for mobile devices, you could lose customers to your competitors unnecessarily. Partner with the agency professionals at our website design agency, and you can rest assured that your website will look fantastic on any device.
Often, we design websites for use with WordPress, which is the world's most popular website content management system. After we've created your website, you can make tweaks as and when required to maintain the top positions on Google. Alternatively, if you'd rather let trained experts handle the task, you should learn more about our website maintenance services.
Conversion rate optimisation (CRO)
is all about making sure as many visitors to your website as possible take a desired action. In many cases, that means enticing a reader to purchase a product. In other cases, it refers to encouraging people to sign up to a newsletter or fill out a form. Whatever your needs, we can deliver.
Learn More about Our Web Design Services in Bristol
At Move Ahead Media, we're veterans when it comes to web design services and could provide leading web design, SEO and digital marketing services to companies of all sizes. Whether you need a website designing from scratch or require a brand-new one, we can help you, and we guarantee fast turnaround times and affordable prices.
We specialise in all forms of commercial website creation, whether you need a single landing page, a brochure website or an ecommerce site that allows you to generate sales around the clock. We take a strategic approach to designing websites because we know that your company and customers have unique requirements, and we're genuinely passionate about what we do.
In addition to designing a website for your company, we can also maintain it so that you can become an online force without having to do any of the hard work, enabling you to focus on your core business tasks. As a holistic digital agency and Premier Partner with Google with over a decade of experience, we know how to create a striking website for your company that could help you grow to unprecedented heights. If you have any questions or want to discuss the future of your online efforts with our team of agency-based experts, we encourage you to call us.