MAM Feature Blog Series: Meet our SEO Team
Being true to our commitment with our Mission/Vision statement, each month we will highlight a different department to showcase their expertise so that our clients and readers can get to know us better as a company. With that, we'd like to dedicate the first "MAM Feature" Blog Series to our wonderful SEO team. They are the ones in charge of making sure you get the audience you deserve in google and that your website is optimized properly.
Get to know our SEO team by reading the blog below and watching the video. They have also shared some quick tips and tricks on how you can make your website more optimized. Scroll down to read more!
Meet the Team:
The head of our SEO team is Toni (Toni Candelario). She got her degree from the University in the Philippines at Ateneo De Naga and has a total of almost 7 years' experience under her belt. Her expertise is in SEO but she has also explored other Digital Marketing fields like Social Media, a bit of Branding, Website Admin etc. She's a huge fan of alternative rock bands from the 80s and 90s and a MOBA gamer in her free time.
Jay (Tanawat Sirivirojanakul) and Tam (Sarocha Promopas) are our SEO Analysts. Jay, a movie and video game buff, has been working in SEO for 2 years and graduated with both a Bachelor and Master's degree from Australia. Tam on the other hand is a recent graduate and has been working for about a year. She has earned her degree from Assumption University Thailand in Business English specializing in Marketing and has a background in digital marketing from an e-commerce company.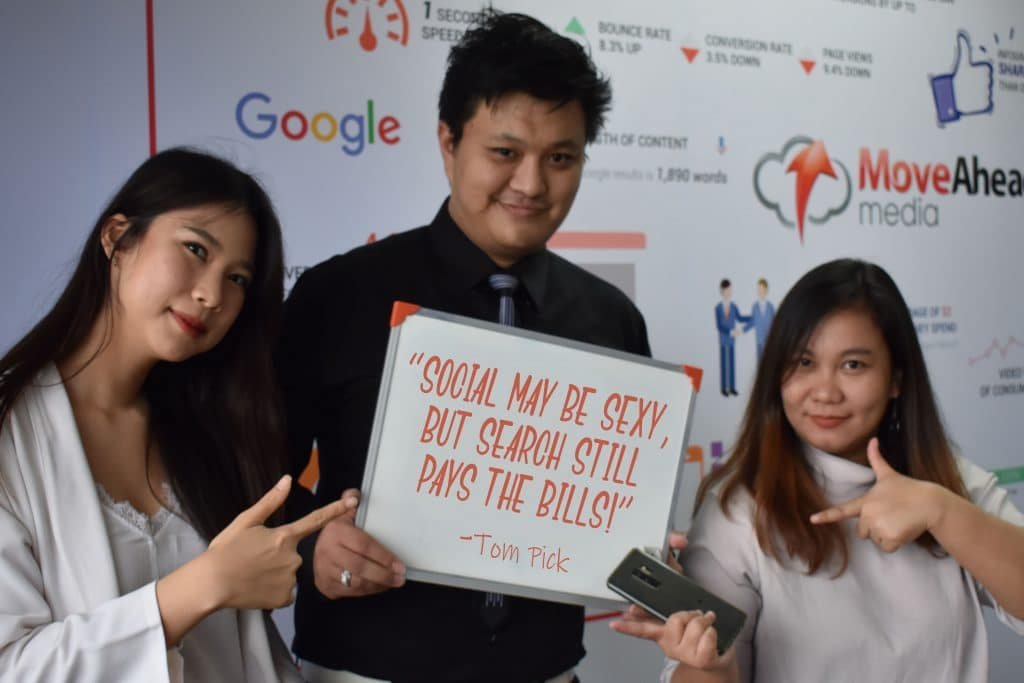 SEO Team Q & A:
MAM: How would you explain what SEO is to someone who is not that familiar with it?
Tam: SEO stands for Search Engine Optimization and it's all about increasing the amount of visitors to your website and ensuring that your website can be found in a search engine's results page (SERP).
Jay: It is a way of optimizing your website according to the Google Standard which then makes your website more presentable.
Toni: People are using the internet now more than ever. They go online to search, find or purchase something and majority use Google as their preferred search engine. Our priority as an SEO team therefore is to optimise a website so that they appear in the first page or at least have a high ranking position for website visibility in the first page of search engines.
MAM: What is the most common thing people get wrong about their website from an SEO point of view?
Toni: I can answer these questions with 3 things in mind. First, most people think SEO will make them rank in position 1 right away. Second, businesses think that spending less in SEO is better. And third, they think it is easy to learn about SEO and that knowing the basic information is enough. SEO is a huge interesting world to learn and explore. It is a continued investment of time and dedication as search engines continuously change and evolve.
Jay: For me, I think that it's the perception that SEO is extremely easy and does not require professional advice or help at all. Or sometimes they ask why there needs to be so many procedures and they don't really see how this would help their website.
Tam: Some people think SEO is a free version of SEM and a lot of people think the quicker the traffic, the better but it's not always the case.
MAM: Top 3 tips or advice you can give to clients to make their site optimized.
Tam: Optimize content to be SEO friendly (for both google algorithm and user experience), minimize unnecessary files on the website and improve the quality of your website in terms of site structure and content.
Jay: Optimize your page title and H1 properly, exercising internal and external linking, and design site structure logically.
Toni: Aside from the above, it is also good to have a website audit to ensure that your website is clean and fast - easy to load, well designed, no issue of duplications or messy page structures. It should also have good quality content meaning it should be accessible, useful and provides information intended to what the user/searcher is looking for. And like Jay said, you need links and quality referrals from strong websites.
MAM: Is SEO worth the money/investment?
Jay: Absolutely, yes! It will last on your website much longer than any other digital marketing tools.
Toni: Yes it is. You invest into something that is also beneficial to you and your business. However, it is not for short term investment. SEO takes time and it is always a work in progress. Understanding your buyers or users is the key. As a business, you need to be flexible and adaptable to the current trends online.
Tam: Of course, yes. Some people think PPC can gain leads faster but imagine if you stop paying advertisement, people will not see your ads. Moreover, people trust organic websites more than paid advertisements. According to the research, Over 70% of people will happily scroll past ads to see organic results because organic results convey more trust than paid ads!
MAM: Why should readers get in touch with MAM for their SEO needs?
Toni: Because of our experience in handling SEO clients. We, as a company, have been doing SEO for more than 10 years and we have a dedicated team of experts that aim to help your website get visibility in Google and eventually grow your business.
Tam: Right, and we can make your website perform better. We also get updated and accurate insights, trends and information about SEO since we are a Google Premier Partner.
Jay: Yes, we are a Google Premier Partner which means we always get immediate updates to match with the Google algorithm standard. We can also provide some basic practices for you to apply to your website.
Toni: We also have a flexible approach. Working with a variety of clients helps us understand your business needs and it enables us to develop a flexible SEO strategy to achieve your goals effectively at a reasonable cost. At the end of the day, we aim to see our client's businesses grow. From our Onsite Analysis/Audit, to the implementation of the strategy, we ensure that these actions will give our clients positive results.
There you have it, an all access look into our SEO team. We hope you found this article very informative and that it has shown you the importance of getting a good and flexible digital marketing agency to help with your website. Interested to learn more? Get in touch now to see our packages or to request for an audit.
---
Get In Touch