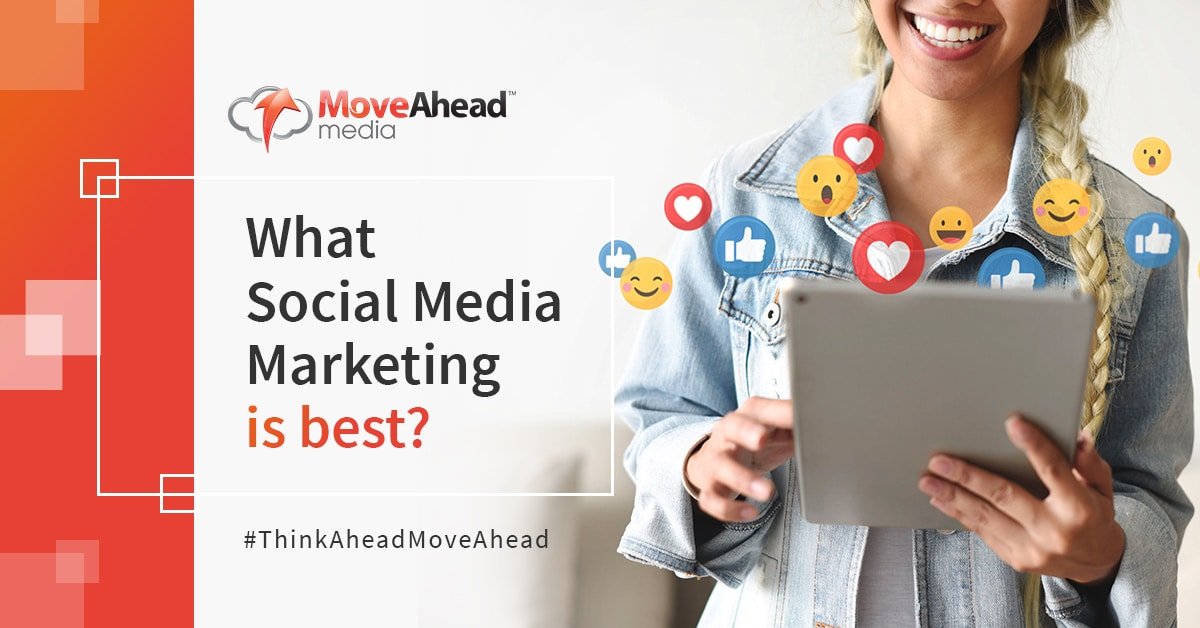 What Social Media Marketing is best?
Bear in mind that nearly 60% of people use some form of social media daily, and you can understand why 97% of marketers try to reach new customers using platforms like Facebook and Twitter. However, 85% of business owners are unsure of which social media tools to utilise. To understand which social media platform is best for your business, you need to know which platforms your customers use, when they use them, and what kind of content they like.
With over 2 billion users, Facebook is often assumed to be the best advertising platform. But as you'll soon find out in our guide to the best social media platforms for marketing, many other tools can be used to grow your business significantly.

Facebook 
With around 2.2 billion users and 1.45 billion active daily users, Facebook is by far the world's most popular platform. For businesses, it's best used for engaging your audience, enhancing your customer service, advertising and collecting reviews. Remember that most of your customers will expect a prompt response to their queries on Facebook. And, you need to update your feed daily to keep your brand name alive.
Twitter
Twitter has around 320 million active monthly users. Though that figure may be dwarfed by Facebook's membership stats, Twitter is still an excellent tool for businesses who want to build industry authority and provide real-time updates to prospects. As a fast-paced platform, Twitter attracts users seeking news and information. Consequently, it's an excellent marketing tool for companies that post fresh content frequently. Always remember to include a link to your website with each post.
LinkedIn
With nearly 600 million registered users, LinkedIn is the largest social media platform for professionals, and it's an excellent tool for reaching B2B prospects and finding employees. When marketing on LinkedIn, make sure you show your company in its best light. Don't be afraid to be conversational and inject some personality into your content, but make sure it provides real value to your prospects.
YouTube
You might not think of YouTube as a social media platform, but it has over a billion users, and it's one of the most comprehensive sources of user-generated content on the internet. For businesses, it's best uses are highlighting your company culture, demonstrating products and providing tutorials to build trust with your audience. And, you can embed YouTube videos onto your website.
Pinterest
Pinterest has nearly 200 million users, and it's often used by businesses to share product information. All ecommerce businesses should be active on Pinterest, especially given that 87% of Pinterest users have purchased a product as a result of using the platform. You can upload product photos along with descriptions to Pinterest. There are now also a variety of built-in shopping features, making it even easier for you to promote your products to consumers.
Instagram
Instagram is a popular video and photo sharing platform used by over 400 million people throughout the world. While you can't include links to posts or your website on Instagram, you can use the platform to build your brand's identity and encourage other users to share your posts. Also, by including hashtags in your photo descriptions, you can get your content in front of potentially thousands of people quickly. 
Google+
Last but not least, Google+ can be an effective social media marketing tool for businesses. The platform has nearly 400 million monthly active users. But its primary benefit is that it allows you to manage your Google My Business listing, giving you the chance to land on the first page of Google's search engine results pages (SERPs). If you're a local business, having a Google My Business listing is simply essential because over 80% of people search for local businesses using their smartphone. The only sure-fire way to ensure your Google Maps information is accurate is to keep your Google My Business listing up to date.
Finding Your Audience
Now you know why and how all the world's largest social media platforms are useful for marketing your business, you need to determine which one is best for you by finding out which platforms your customers use, which requires in-depth data analysis. If you're unsure of how to research audiences, use relevant keywords and hashtags or write compelling CTAs, you might want to partner with a social media marketing specialist.
Ready to Move Ahead? Contact our team of experts today!
---
Get In Touch