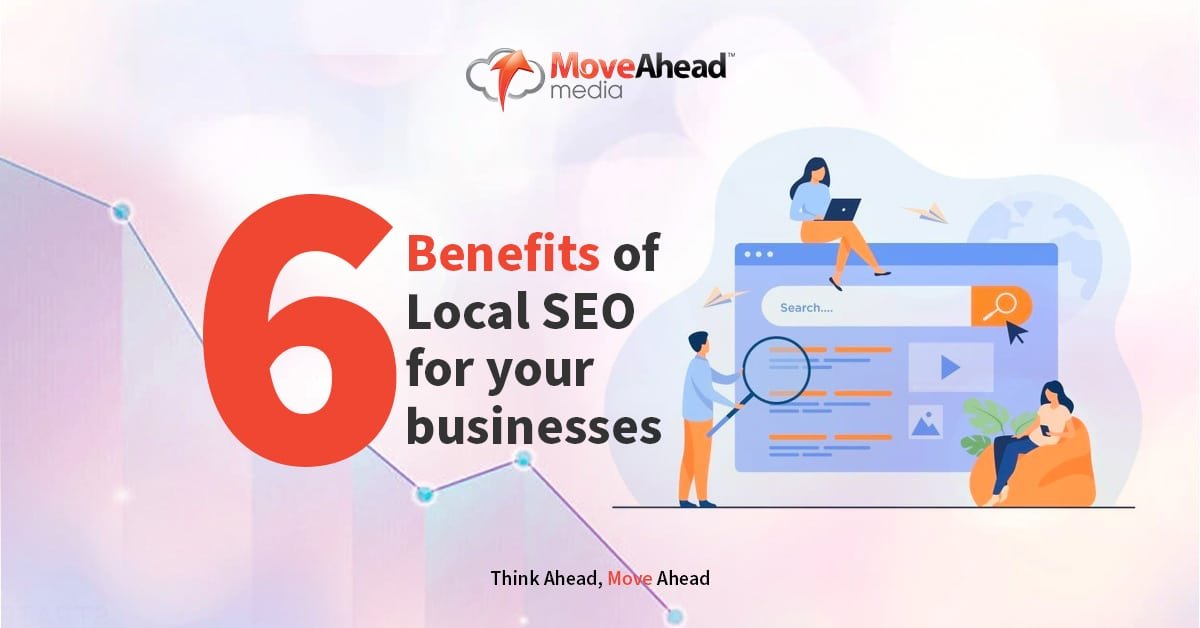 The Importance of Local SEO
With the demand for search on local businesses exponentially increasing, it is no wonder that people are scrambling to find ways to rank their websites on Google. Your typical SEO strategy may not be enough for your small businesses to win in this competition. Local SEO has become a very popular topic over the past few years. Many business owners have been wondering how they can get started on improving their rankings on search engines such as Google. If your business manages to get ranked on the first page of Google, you will gain a lot more prospective customers or clients. Small business owners must take advantage of local SEO by optimizing their website because many benefits come from ranking your website on top in search engines from local searches.
Here are some of the top 6 reasons why getting ranked locally for local search can help improve your business's online presence and increase revenue for your business and your site:
Improve Keyword Ranking Performance
If you have been using SEO, getting the results you want can be challenging when many other websites try to take advantage of this technique. It would be best to find a way to make your business unique and stand out from the competitors. You would be surprised by how many internet users are performing a local search.
Local SEO uses a different type of algorithm specific to your location with the support of local keywords. It can be beneficial to your local business because it will help you improve the keywords that your business ranks for. It means that if people are searching online specifically about businesses near their area, then yours will appear on top of the search engines.
The more local keywords we have on the first page, the more we will rank for short-tailed or seed keywords. This will tell search engines that your website is highly relevant to a particular topic. That means it will rank higher on broad keywords as well. Even though keyword research shows search volume on local keywords is relatively low, it has so much potential to boost your business opportunity. Then, it is considered to be very crucial to have proper local keyword research, especially relevant keywords, by using several SEO tools to generate keyword ideas.
Improve Organic Traffic
Your website will start to see an increase in organic traffic as a result of implementing local SEO. When we use local SEO, your website will be ranked higher on both the local and long-tailed keywords. You may find that the search volume on the local search is relatively low, but it is perfectly fine. What matters most is that your business is shown on the local search results, because your website or landing page visibility can increase the chance of getting clicks or traffic flowing into your website. Again, this means you can expect an increase in organic traffic to your site. The search engines will deliver more relevant results for your business. People can find you with ease online from the organic results. As mentioned earlier in the previous section, effective local keyword research for search terms with the location of local businesses would increase the chance of success in this aspect.
Improve Brand Awareness & Credibility
Brand Awareness is considered to be one of the essential factors to your business's success. In the past, we heavily relied on some website directories or books to get your business listing on them to improve your brands. With the help of local SEO, you can expect to see an increase in brand awareness from the visibility of the keyword that leads to proper online visibility. More people will find your business online, even though they are not considering your product or service now. Still, they may change their minds in the future because the prospects start to remember and recall our business whenever they need it, thanks to the benefit of local SEO.
Besides brand awareness, once your business ranks from a local keyword on the first page or even first position on the SERPs (Search Engines Result Pages). People tend to believe search results from the first page are credible. Top-ranking positions are calculated by algorithms or ranking factors such as content quality, website Security, amount of backlinks, etc. In fact, SEO ranking factors are having over 200 factors as we speak. Then, potential customers tend to believe in your products or services; even if they haven't heard about you before. When we talk about reputation, it is limited to one's personal life and in business. Good online reputation management can help you grow faster than ever before by creating a positive brand image among people with higher customer engagement.
Improve Conversion Rates
We have received benefits such as ranking improvement, organic traffic, and brand awareness & credibility from Local SEO, but what is the ultimate objective of doing business? Revenue or income would be a definite answer for sure. A perfect marketing strategy on Local SEO can also increase conversion rates. Local SEO helps to improve conversion rates and makes it easier for potential customers to find you when they are looking for businesses like yours. This means that there will be more transactions or engagement with the potential customers, and the conversion rates will be improved. However, local SEO may not be enough to bring more conversions to your website. Consider SEO marketing strategy as website optimization because local SEO is only concerned with geolocation and local keywords. Still, SEO is prioritizing on-page optimization, as well as off-page optimization or link-building strategy.
UX/UI Audit
is also important. Proper website design can increase user experience and stimulate users to have a positive feeling about the website, eventually leading to your business.
Improve Return on Investment (ROI)
There are a lot of marketing options out there from social media marketing, paid search, and SEO. From my experience working in the industry, I really recommend that SEO campaigns are the ones worth spending the most. The reason behind that is that SEO is a long-term marketing strategy that does not require you to pay on each click from website visitors that go to your website like paid search or require immediate attention from updating on trends and situation of content much as social media marketing. SEO is the most attractive marketing strategy because it benefits several ways, including top of search engine results, website traffic, and conversions. Therefore, if your business does not have an online presence, I would like to recommend that you go for a local SEO plan instead of social media marketing or paid search, which can give short-term results but may cost you a huge load of your money. Apart from money-wise spending, if your business's website has a perfect SEO marketing strategy, it tends to make paid searches such as Google Ads PPC cheaper since SEO can improve the website's quality score.
Improve Ability to Compete With Competitors
Imagine operating a restaurant on Merlin Road in Bristol... how can your business distinguish and stand out from thousands of restaurants on the same street? Moreover, if your restaurant is famous among local customers, how can you make it even more prominent to foreigners or tourists visiting Bristol? Also, how can you provide a proper business name, address location-specific and phone number? I understand that many companies tend to cut their marketing budget because of a pandemic with the current situation.
However, the pandemic is not permanent. Once it is gone, the business will fully operate, and the competition will be highly competitive. What if I told you that you could start to move ahead of your competitors today by executing a digital marketing plan that can take your business to dominate the market from today. Once your marketing strategy pays off, especially from your website's online presence and ranking performance start to show on the results page. It is relatively difficult for your competitor to outrank you if you perform better than them. By doing this, you increase a barrier to entering the market and a barrier to competing with your business. Apart from that, your restaurant would show up on a Google search and it is a perfect guide for locals and people from different places. Eventually, your online presence will also make the competition in the offline world difficult because now when they search for "Chinese restaurant in Bristol" or "Best Chinese Restaurant", your business will come up and reinforce your positioning in both the online and offline world. This is how local content plays a role in this strategy. Because from a Local SEO perspective, either local audiences or users from anywhere are expected organic search results to be as relevant as possible. Therefore, you can see how important it is for your website to get local rankings.
Local SEO is very important for small business owners to get an ideal ROI. It is a strategy that helps you in many ways and also makes it very easy for the Search Engine Optimization (SEO) experts to optimize your website and make sure people find out about your service or product when they search for certain keywords related to what you offer on Google, Yahoo! and more. Are you wondering how your website currently performs? We offer a free SEO audit and bespoke advice for local SEO, such as maximizing your local business potential by using Google My Business to optimize your website properly. Contact us today for a life-changing digital marketing plan and services tailored to your business!
---
Get In Touch